SQL Query store in Action
"A deep dive into the details on the query store"
By Grant Fritchey

This is a book about the Query store that would "change the way you monitor performance … and the way you tune the performance.."
Well, not so. This isn't a book at all; this is merely a blogpost that has been put on paper.
For example, you have unreadable screendumps accompanied with the text :
"( you might have to click here to make it bigger)"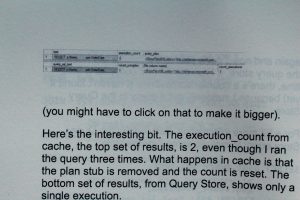 You will also see several pages of SQL code, for you to cut and paste – pardon, to type into management studio for an hour or so. Or search the web for the original post. The blogposts themselves are well written with clear questions and very verbose experiments, with an occasional reference to the source with a hyperlink. A hyperlink? Yes, a printed hyperlink.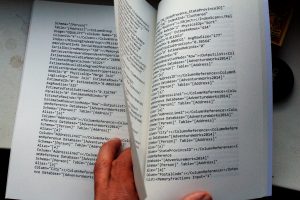 Pages of Code to Type….
This book is not about the internals and the elaborate posts are to answer
questions such as:
What happens to Plan Forcing when you have RECOMPILE hint in your procs?
– Answer: nothing, a full recompile is done, that plan is discarded and the forced plan is used.
What happens with a forced plan when "Optimized for Ad Hoc" is configured?
– Answer: this may capture many plans, so change the capture behaviour from "All" to "automatic" . This will filter the input to the query store and avoid flooding the query store.
Which takes precedence, the Query Store force plan or a plan guide?
answer: Query Store
Interesting details, but more striking are the subjects that are missing from the book.
Overall verdict:
This printed blog with trivia about the query store will hardly speed up your research.
Keep your money and save the trees – in the case, a bonsai.