6 March 2017: It's the second edition of the "Central Europe premium SQL Server conference" in downtown Warschau.  Located in the "Palace of Culture and Science" – affectionately known as a 'Stalin Cake', the conference has one of the best places to host a conference: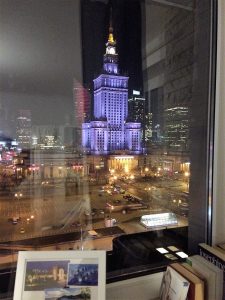 "Palace of Culture and Science" – as seen from my AirBnB room
With a touch of grandeur the familiar faces ( such as Kalen Delaney, Klaus Aschenbrenner, Uwe Ricken, Grant Fritchey and others ) were showing their gigs. Well organised, good food and a great venue made it a good experience. The only drawback of these sessions was that there wasn't any session material posted on the website, nor any recordings. This is a pity, as demo's are much fun to replay at home and to investigate them a bit deeper. I'm afraid I would prefer SQLSaturdays because of this omission.
Website at http://join-conference.com/